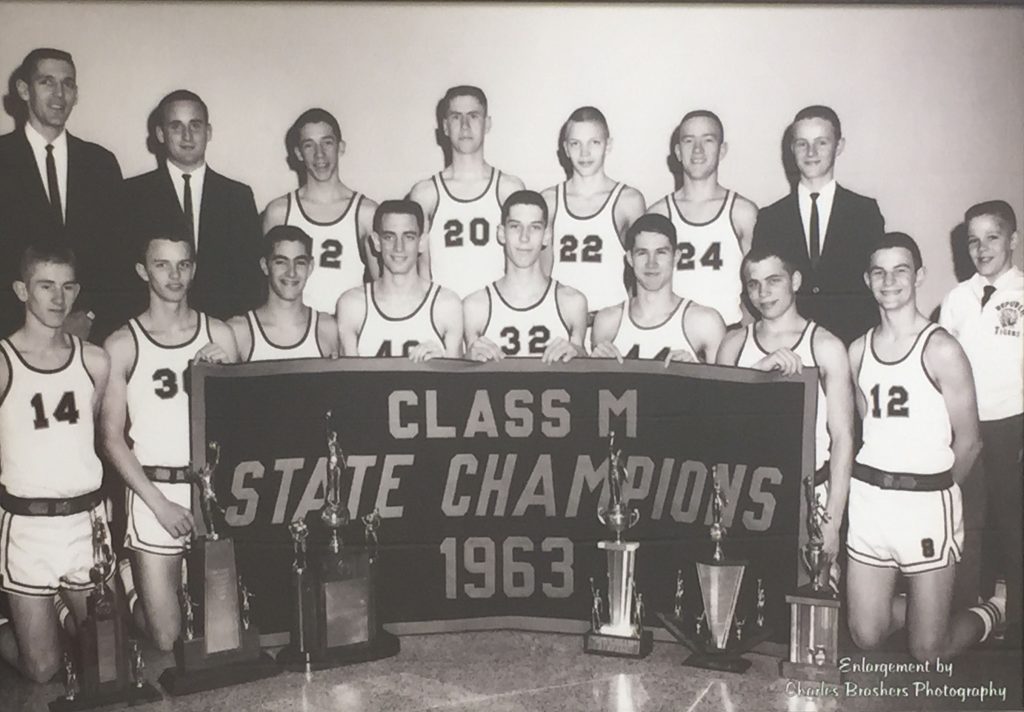 The 1963 Tigers were Republic's first-ever state champions, defeating Bernie 78-63 in the Class M state title game. Though the team's two big men, senior Don Carlson (6'6″) and sophomore Howard Arndt (6'7″), got much of the attention, they were far from the only offensive weapons on the team. Guard Tony Logan, a 1st-team all-state selection in '63, may have been the best all-around player, according to Carlson. Harold Harris and Butch Blades rounded out the starting lineup.
The five had been playing together since grade school, usually in a field at Logan's house.
"We didn't have any concrete. We just played on grass and soon it would become dirt," remembers Carlson. "Howard would come over. Harold would come over. Butch would come over some. We just were very, very fortunate."
Arndt recalls that even in grade school, Logan was the competitive, driving force who spurred the others to improve.
"Tony was a very hard-driving individual. He pushed us all," Arndt says. "He was always challenging me. Being a younger kid, (I'd) want to goof off. He was always on my case about working harder and trying harder.
"Tony was 6'0", and we used to play 1-on-1 all the time. He'd get mad at me if I wasn't playing hard enough. He wanted the challenge of going against someone bigger than him."
Coach Leland Brown says his team's defense was "murder" on the opponents inside, but it was strong on the perimeter, too.
"We had a pretty good defense outside. We could take some chances outside with (Arndt and Carlson) inside," he says. "We changed a lot of teams with those big guys."
Offensively, the Tigers liked to run.
"We ran a fast break. I'm pretty stubborn-headed. We couldn't stall the ball," Brown says. "If we were going to try to take a last shot before the quarter ended, we always tried to get it going quicker than most people do, because we wanted a chance for an offensive rebound."
"Not only did we have good [starters], but we had the guys who didn't get to play as much. They made us better in practice," says Carlson. "Charles Cook, Jim Ferguson, Terry Mooneyham, and others."
In addition, Carlson says he believes Brown's contribution as head coach is often overlooked.
"I don't think he gets enough credit. You're managing the skills of everyone, and the offenses that you put together.  Adapting your offense to the skill level of your players, and building that character…that we don't care who gets 15 or 20 points a night. We're all in this together to win," Carlson says.
(Game photos courtesy Leland Brown)